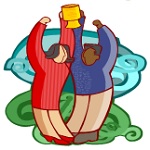 Seven Great Sales Tools To Help Supercharge Your JV Sales
In a recent article I told you about the importance of making selling as simple as possible for your JV partner. One of the very best ways of doing this is to create powerful, winning ready-made sales tools for them to use. Then all they need to do is drop the material you provide into their marketing and – hey presto – the sales (and the cash) should come rolling in!
In this article, I'll explain how to create seven winning sales tools. Actually, you don't have to use all of them. But I would strongly recommend that you have at least five of the following all ready to roll before you sign up your JV partner:
Classified Ads.
Many JV partners will sell your product or service to their customers by running short classified ads. in their e-zines. It's simple, quick and effective. Chances are you'll already have some successful classified ads. from before you even thought about JVing? Well, you can let your partners run those same ads. too.
You don't need to spend ages writing classified ads. A good classified ad. should be short and snappy. It should ideally have no more than 30 words or so. It should include : An eye-catching opening line of 6-7 words (an announcement or claim is good); a quick description of your product and what it does (12-15 words) and – most important – a summary of the benefits (8-10 words).
Display Ads.
Fact: Display ads. (also known as solo ads.) should have a higher ROI (return on investment) than any other form of Internet marketing. Reason: Display ads. are not only bigger but they usually go out alone to the entire subscription base, which classified ads. and sponsor ads. may not do.
Once you have created and tested your classified ads. you can use the same headline and expand the body of your classified ads. into larger, more detailed display ads. Best way to do this : Keep the headline/opening line short and simple as with a classified ad. Use the extra space to express and expound all the benefits to the reader.
It's also a good idea to create and use your own headline to use as the subject line of the e-mail.
Note: If you run your own opt-in list you can test your classifieds and display ads. to your list first to see which ads. pull the most response.
Articles Promoting Your Product
Many of your partners will be running their own e-zine or opt-in e-mail lists. Many of them want meaty, quality content they can publish in them. Because an article is not an obvious sell it will be read more – and will sell more than an ad.
So write a few good articles related to your product – or hire a freelance writer to write some for you – and supply them to your partners.
An article must never be just an advertisement – even though it will heavily plug your product. Try to actually include some useful content. Great articles ideas include: Information on how to get more from the product; unusual uses for the product; people-stories, ie. about people who use the product – and fun/quirky stuff.
Professional Graphics
You should include graphics in any ads. or articles you send out. But also make the graphics available separately so your partners can use them on their site, and in their own ads., e-zines and e-mails. Graphics can be photos of your product, your product in use, your product being made etc. – they can also be things like logos, sketches, animation, diagrams, flowcharts and tables of facts and figures.
Lots of graphics are easy enough to produce yourself – photos etc. need only a digital camera. Others you can create yourself using web design software – or have a designer create them for you.
Professional Banners
First a small caution: Banners don' t work as well as they used to. But lots of partners still want them and, since the cost is low, it's crazy not to have some to hand if they ask.
Don' t go overboard. Just create a few simple text banners. Keep the text size down to 9-11 font size, since banners are usually small. Within the banner have a headline, plus a little benefit-packed copy (which you can paste in from your other ads.).
Endorsements
Now I know this seems a little bit big-headed …. writing an endorsement for your own product, saying how great it is, for someone else to use. But, let's be brutally frank: No one knows how to present your product better than you do!
Actually these letters should be written as if they had come directly from your partner. All you need to do is write some short messages, just a few paragraphs long, covering one or more of the following: How good your product is. What the benefits are. How it has changed users' lives. How great you are to do business with!
Of course, if your partner would rather write their own endorsements they still can do so . In fact, you should encourage them to!
E-mail Follow-Up Letters and Reports
I find that this can be one of the most useful tactics to help JV partners generate sales. Write 3-5 good e-mail follow up letters which your partner can use to 'chase' up interest after they have made the initial introduction of your product. Each one should focus on a different benefit or benefits your product offers the buyer.
Another great, winning sales tool is to create a multi-part (typically five part) informative or entertaining course relating to your product. Your partner can then give it away for free …. or put in on an auto responder to pull in even more sales for both of you without having to do anything at all!
You Can Receive This Post As A FREE PDF Ebook
Enter your First Name
Enter your Email Address to Receive the PDF and Tips and Offers.